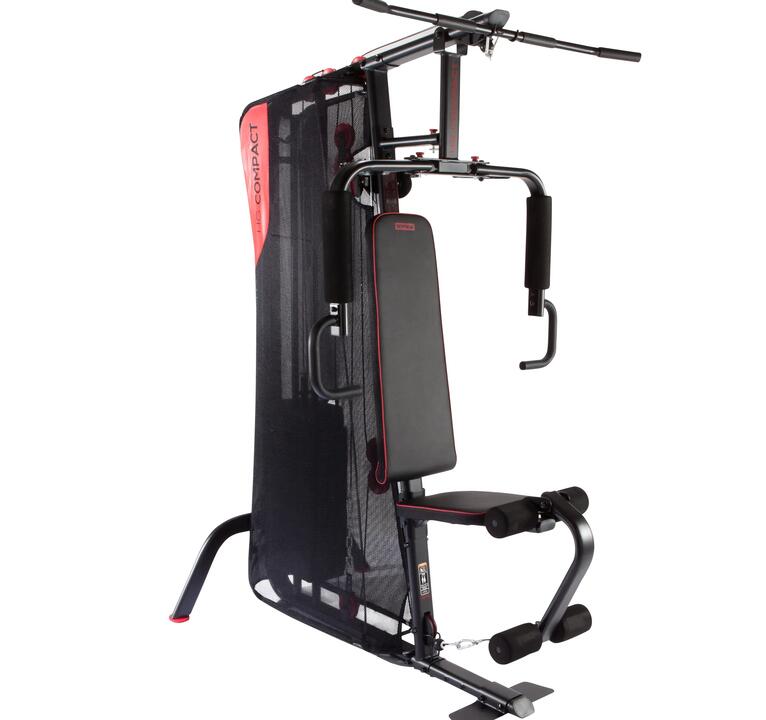 HOME GYM COMPACT NEW COLOR
1. The screws are loose:
=> Tighten all visible screws
2. Lack of lubricant:
=> Lubricate the joints and the two weight guiding tubes with silicone spray
I'M HAVING DIFFICULTIES PULLING THE WEIGHTS
Assembly problem:
=> Check that the pulleys have not been over-tightened
=> Check that the cables haven't get out of the pulleys
=> Check that the cables have been mounted as per the assembly instructions
THE CABLES ARE NOT TIGHT ENOUGH.
After a while, the cables become longer and get loose:
=> To tighten the cables, lower the snap-hook by one or two chain links.
THE CABLE IS TWISTED OR DOES NOT RUN SMOOTHLY
The cable was poorly fitted during assembly:
=> Check that the cable is properly positioned by reading the instructions
I DON'T KNOW WHERE TO PUT THE PLASTIC GUARDS.
Assembly problem:
=> The large plastic guards shall be used for the pulleys that are inside the tubes.
=> The small plastic guards shall be usued for the flat parts.
DOMYOS guarantees this product under normal use conditions, 5 years for the structure, 2 for other parts and labour as from date of purchase, as shown on receipt.